There are plenty of ideas for cheap wedding veils around, so you don't have to spend a fortune.
It's a shame that the bridal boutiques have a monopoly on wedding veils. You've got your beautiful dress on and then they bring out the veils - what an up-sell! It's important to try on your veil with your dress, but you certainly don't have to buy it from the boutiques.
They mark up the prices at an incredible rate, for something that you will only wear for only a couple of hours. When you get to your reception, off it comes!
For my wedding, I opted not to wear a veil, as I didn't think it would work with my tea length dress, but for you, there are plenty to ways to work around the cost of wedding veils.
Borrow from a friend or relative
Borrowing a veil is one way to ensure you have the 'borrowed' of 'something old, new, borrowed, blue' - it will also save you a lot of bother!
To make sure you don't look identical to your friend, wear it slightly differently - add a tiara or ask to add some extra decoration to it.
Second hand dress agencies
Many second hand dress agencies have new and used wedding dresses and accessories. With online wedding dress agencies springing up all over the place, you can pick up a veil for a tenth of the price of the wedding boutiques.
Ebay is another good source for cheap wedding veils - many are brand new and as always with eBay very cheap. Once you know what style and length you want, just search for it.
Charity Shops
Many charity shops have bridal give-aways. You can often pick up second hand dresses and veils, and some even stock end of lines and samples as the designers feel generous at the end of the season. You should be able to pick up veil for up to 30% off - and you'll be helping a charity.
Make your own veil
My mum was moving house a few weeks ago and as part of the clear out, she discovered her old wedding veil. She had made it herself with some tulle fabric (easily bought from a fabric or craft store) and fixed in place with some white pins. Very simple.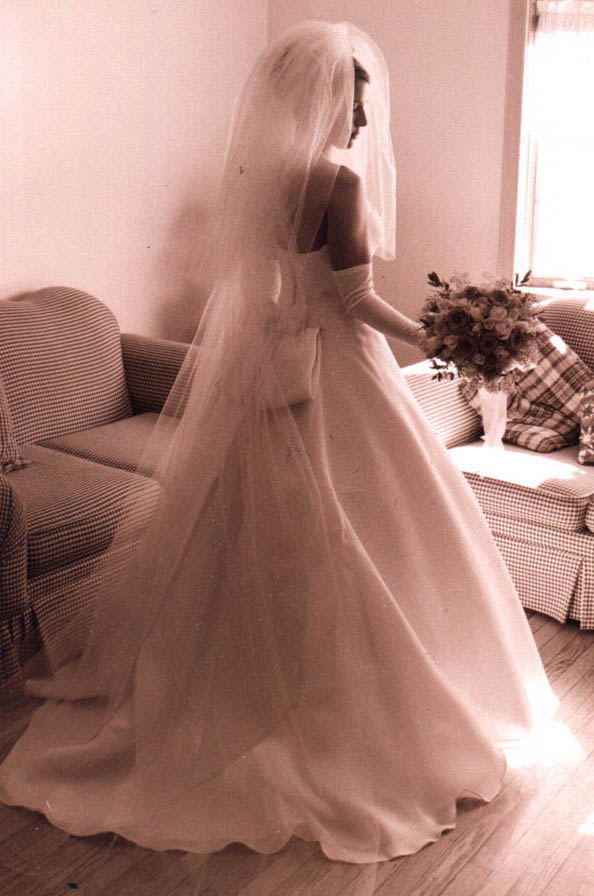 Why not give it a go? The assistants in the craft store will give you lots of advice on how to make it and you can jazz it up with all sorts of little crystals, beads and ribbon edging.