Cheap wedding tulle is one of the most traditional fabrics associated with weddings. You're most likely to see it in a veil or as trim on a wedding dress. However, tulle is also an affordable fabric that can be extremely useful for a wide range of wedding-related purposes. Let's take a look.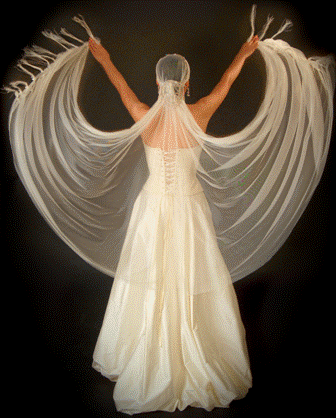 Finding the Best Prices
If you're looking for cheap wedding tulle, your first stop should be your local craft store. Buying large quantities at some of these stores can actually reduce your price overall. Some stores, including major discount retailers, also sell tulle at lower than normal prices. If you don't need the customer service found at the craft store, these discount retailers can be a good alternative. Don't forget to check online prices, too.
Keep in mind that you'll find the most reasonable prices if you stick to white tulle. Other colors are available but they tend to cost more and come in smaller quantities so they may not be as useful for your needs.
Decorating the Wedding
One good use for cheap wedding tulle is decorations at the ceremony and at the reception. You can use the tulle to create bows for the ends of the aisles at the church, for example. One 65 yard spool of tulle can create roughly 18 bows. To make the bows more festive, you might want to add in a few sprigs of silk greenery or a flower.
The tulle can also be used as a decoration on some tables. You can place it on the tables under the cake or the gifts to give the tables a little something special. Keep it away from any table that where it might be exposed to an open flame. Additionally, cheap wedding tulle makes a nice decoration for chairs. You can create wrap-around bows that look beautiful.
When use tulle in these decorations, you can also sting lights or other items through it to give the tulle a more festive look.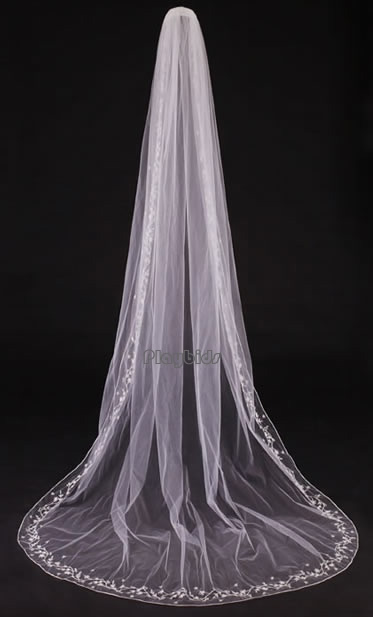 Adding Something to Invitations
If you've decided to make your own invitations, you can use the tulle as a decorative accent on the cards. With a small amount of hot melt glue, you can add tulle along the edges of the card. While tulle is nice for this purpose but since you won't need as much, you could purchase smaller rolls of colored or glittery tulle.
Other Options
Many brides on a budget need to do many of their tasks on their own in order to keep costs low. As mentioned above, tulle can be used to create a wedding veil for the bride. Tulle can also be sewn into an ordinary dress to make it seem more appropriate for a wedding and can be used to help decorate floral bouquets.
Tulle can also be used to spruce up the bridal parties' gowns. If your bridal party is low on funds, too, they can purchase a more affordable dress and add tulle to it so that it looks more wedding appropriate. In fact, you'll be surprised at how festive a bolt of tulle can make the most ordinary dress, table, bouquet, or even the walls of your reception hall.
Cheap wedding tulle is definitely one of the must-have items you need if you want to handle some do-it-yourself wedding projects.