Bridal veils are an important part of wedding tradition, yet many modern brides struggle with the decision about whether or not to wear one. Your wedding is one of the few opportunities to wear this unique accessory, and most brides end up being glad that they opted to have a veil. These are six reasons why you might want to wear a bridal veil for your wedding.
One: It is traditional. Weddings are rich with customs, and the wearing of a veil is one of the oldest ones. The origin of the tradition is Biblical, although by now it is an equally strong secular custom. In some religions, such as Orthodox Judaism, a veil is mandatory for a bride. Even if your faith is more lenient on this matter, it is still a lovely custom. Keep in mind that unless your religion has specific rules on it, a bride can opt to wear a veil in the back without the blusher over her face.
Two: Nothing says "bride" like a veil. Many of the contemporary wedding gowns closely resemble evening dresses, and without a veil, the look is just not that bridal. Even women who never thought they would like a veil are amazed how how when they try one on, they suddenly "feel like a real bride". This is a powerful emotion, and one that every bride deserves to feel. Plus, a veil just looks so beautiful wafting behind the bride during the processional. It is always an option to wear a veil for the ceremony only and remove it during the reception.
Three: A veil helps to balance out the bridal accessories. If you are wearing ornate bridal hair jewelry such as a tiara, the soft pouf of the veil will make the height of the bridal hair jewelry look more in proportion. The ethereal way in which a veil frames the bride's face makes the perfect backdrop for more dramatic bridal earrings as well. And for those brides who have decided to wear very minimal accessories, like a single flower in their hair, having the veil in place will make the bridal ensemble look more complete.
Four: Your groom may expect one. I'll bet you didn't see this coming, did you? While they may not spend much time daydreaming about weddings, grooms also have images in their mind of how things should be. I can guarantee you that when most men picture themselves standing at the altar watching their bride float down the aisle towards them, that vision in white is wearing a veil. Though they may profess to have no opinion on the subject if asked, most men do expect to see their brides in veils.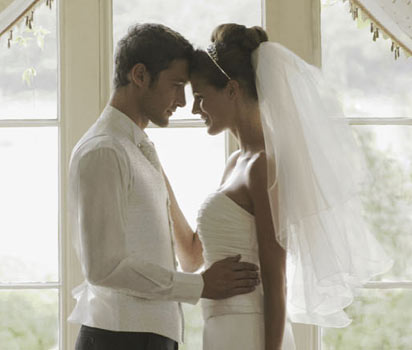 Five: A veil can help to insulate you, especially if you wear a blusher. This can be very useful if you are an emotional bride who is likely to be overwhelmed or a shy bride who hates feeling all eyes upon you. Behind your veil, you can be in your own little world; speaking from personal experience, it can be a very secure feeling that will help you to maintain control over your emotions (because who wants mascara running down her face at the altar?).
Six: An embellished veil will add visual interest to a simple gown. It can be as simple as a silk ribbon edge which will frame you as you walk down the aisle, or a highly decorative veil with silver embroidery, fine lace, or crystal beading. These details are great for a bride who likes a very modern chic gown with no adornments, as it will allow her to have her simple gown while still enjoying some unique accents. And let's face it, a fancy veil looks so gorgeous during the ceremony and in the photos. If you choose to wear a veil, the chances are that you will be very glad you did in the end.