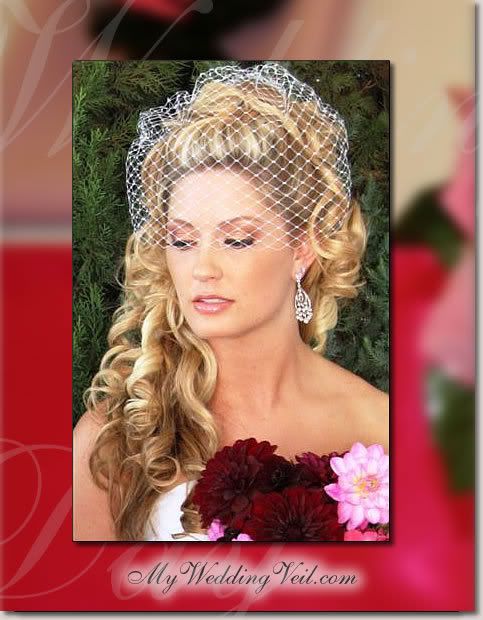 Classic, polished, feminine, romantic, and sensual are just some of the many adjectives often used to describe the birdcage veil, which is a short, circular shaped bridal veil that is usually attached to the hair using pins, or decorative combs, clips and barrettes.
Perhaps one of the very best things about this style of bridal veil is its sheer versatility as the birdcage veil, sometimes called "birdcage pouf," can be used to create a romantic, vintage look, one that's completely trendy and modern, or anything in between. Birdcage veils will definitely help to make a stunning statement that beautifully complements a wide range of hair lengths and styles.
With this particular style of veil you will also have the option of leaving it on and in place during the wedding reception rather than detaching it, but instead of wearing it down as it was during the ceremony, pulling and fluffing it up over your hairstyle, hence the name "pouf."
Choosing Your Birdcage Veil
After you've found just the perfect wedding dress for you it's now time to complete the ensemble with a birdcage veil, a style that happens to be one of the hottest trends in the industry today. Reminiscent of the old, Hollywood glamour of yesterday, birdcage veils invoke both beauty and sophistication and can still regularly be seen in movies, television programs, and on the runway.
Birdcage veils feature a blusher, or a piece of netting that covers half of the face down to almost the chin, and are usually made from either French or Russian netting. Both types of netting have an open pattern that covers the face, as a veil is supposed to do, but won't obscure the bride's face completely. Most netting on birdcage veils will be in neutral colors like white and ivory, which allows them to be worn with any color wedding gown.
To create a look that's uniquely all your own, birdcage veils can be paired with a variety of elegant embellishments such as jewels, pearls, feathers, faux or fresh flowers, and sparking crystal or rhinestone accents.
Fascinators are the hair accessories that are commonly worn with birdcage veils and are ornamental pieces which are fastened to the hair. Heirloom brooches, pins and similar pieces of jewelry can also be used to adorn the birdcage veil helping you to complete the "something old" or "something borrowed" portion of the old wedding custom.
You should always do a "trial run" and have your hair styled the way you'd like it for your wedding and experiment with your veil to ensure you'll have the exact look you want for the big day. Birdcage veils look lovely with updo hairstyles, or bobs, ponytails, French braids, any classic or modern style, or even long, flowing ringlets of hair.
Whether it's a true antique or a beautiful reproduction of the look that never seems to go out of style, a birdcage veil can be the perfect finishing piece to your wedding day ensemble, adding to the overall specialness of this most blissful of occasions.